Library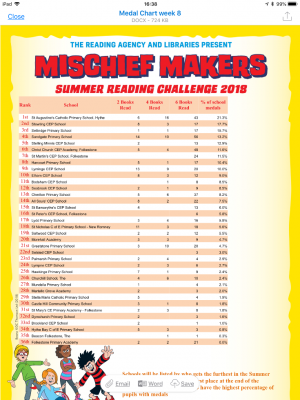 Christian Display
Our Challenge winners for the Summer Reading Challenge 2017
Roald Dahl Day, celebrating his 100th birthday
Summer Reading Challenge 'Animal Agents' 2017
Roald Dahl day, 13/09/16
Summer Reading Challenge league table 2017. We came 15th!! Well done to all.
Roald Dahl day
Roald Dahl Dream tree
Mr Fox
Roald Dahl day 13/09/16
Roald Dahl day. The Enormous crocodile and The Witches
Year 3 Dress up for Roald Dahl day
3LL and 3RT dress up for Roald Dahl day
Year 3
Poetry
Star Wars Xmas tree! May the Force be with you.
Trick or Treat!
Christmas Advent
Elf Yourself- Show me your Elfies!
Seasons Readings
WINNER of Elfie Selfie competition was from Turtles class, they received their prize of a Ten book gift set.
World Book Day 2017
World Book Day 2017
World Book Day 2017
World Book Day 2017
Author of the month and World book day March 2017
Competition
Shakespeare Week
Harry Potter
Harry Potter
Competition
Author of the Month J K Rowling
Welcome to Christ Church School Library!
Our school library is a warm inviting space that both children and staff enjoy using.
We have a quality collection of books for the children to choose from, including books for children whose first language may not be English.
The Library is accessible to all, with each class having their own timetabled session.
Our role is to help create confident, enthusiastic readers and engage children in life-long learning through books. This can be achieved in and out of school. PLEASE encourage your children to read on a regular basis or share a book at bedtime, bath time or any time!
📖📖📖📖📖📖📖📖📖📖📖📖📖📖📖📖📖📖📖📖📖📖📖📖📖📖📖📖📖📖📖📖📖📖
Great news! Christ Church have finished in 6th place on the schools league table, and having the 3rd highest number of children completing the challenge for this years Summer Reading Challenge 2018 'Mischief Makers'.
A great achievement for the school and a very big well done to all the children who took part and completed the challenge. A big thank you also to the parents who have encouraged their children to take part and carry on the children's reading skills.
Well done to everyone who has taken part in this years reading challenge 'Mischief Makers' 2018. We will look forward to next years Challenge 2019.
Keep reading!
🏅🏅🏅🏅🏅🏅🏅🏅🏅🏅🏅🏅🏅🏅🏅🏅🏅🏅🏅🏅🏅🏅🏅🏅🏅🏅🏅🏅🏅🏅🏅🏅🏅🏅
A Whole school Reading challenge
Reading = ⭐️⭐️⭐️⭐️⭐️⭐️⭐️⭐️⭐️⭐️⭐️ STARS⭐️⭐️⭐️⭐️⭐️⭐️⭐️⭐️⭐️⭐️⭐️⭐️⭐️
Earn a Star for your class treasure chest, by reading at home every day. Don't forget to get your Reading record book signed. At the end of each term, the class with the most Stars will win a prize!
Remember "The more you read, the more you learn".
Mrs Tickner - Librarian
Christ Church CEP Academy, Brockman Road,
Folkestone, Kent, CT20 1DJ Telephone: 01303 253645