Special Educational Needs Information.
At Christ Church CEP Academy School, we strive to meet the needs of all pupils within our school in a safe and caring environment. All staff are aware of SEN within the school and receive high quality information and training. We are committed to ongoing training and staff development. We aim to quickly identify pupils, who are making limited progress and provide targeted interventions and support to meet their needs. We ensure that parents are fully aware of the SEN process and informed of their child's learning at regular points throughout the year. We realise and understand the needs of each child will vary hugely even if there is more than one child with the same additional need. Commitment to parents is an important factor to us and we work hard to understand each child's unique situation by speaking and listening to parents. We see each child as an individual. We are a fully inclusive school and work alongside the Local Authority, Health Professionals and community organisations to find the most appropriate and effective support for pupils within our care.
A local offer gives children and young people with special educational needs or disabilities and their families information about what support services will be available in their area. The name 'local offer' was given by the government.
In Kent we call our local offer, the SEND information hub.
Every local authority must talk with children and young people with special educational needs or disabilities and their families to find out what sort of support and services they need. There will be many different types of services that children and young people may need, including support services in school and specialist health services.
Children, young people and their families may also have ideas about what leisure activities should be available, and what services are needed to help young people move towards independence in adulthood.
Every local authority must have a local offer that is available on the internet and must make sure that people without access to the internet can also see it. The local authority must tell children and young people and their families how they can find out more about the local offer. The local authority will then decide what services to make available.
Every local authority must get feedback on its local offer from young people and their families. They must show what feedback they have been given and say how they are going to make improvements to the local offer and services.
A local offer should also include information about what transport services are available for children and young people with special educational needs or disabilities and if there is any help available to pay for these services.
There are many voluntary organisations, support groups and advice charities active in Kent that can help you, often for free.
Our community directory is available for anyone to find advice, support and help they need.
All our staff are passionate about providing the very best education for every child regardless of how they learn. We are experienced and trained in meeting the needs of many common learning difficulties such as dyslexia, dyspraxia, ASD, ADHD and SEMH. We have access to additional training and support to help us meet less common needs. We have a wide range of interventions available at the school.
If you are worried about your child's learning and think that they may have an additional need then please contact Mrs Hogben - Special Needs Co-coordinator (SENCO).
Additional help and advice can be sought from Information, Advice and Support Kent (IASK). They provide free, impartial and confidential advice about the options available and the educational issues faced by parents of children with SEN or physical disabilities.
The following documents will give you more information in relation to SEN and how school and home can support children. If you have any concerns or wish to discuss SEN at our school, please do not hesitate to contact me: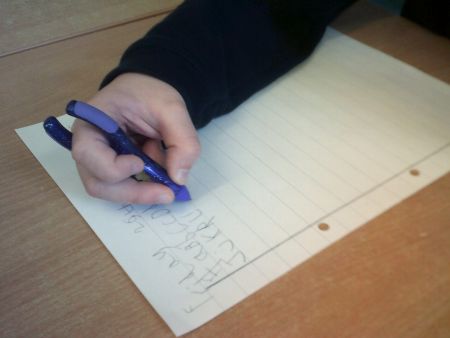 Using a variety of learning resources.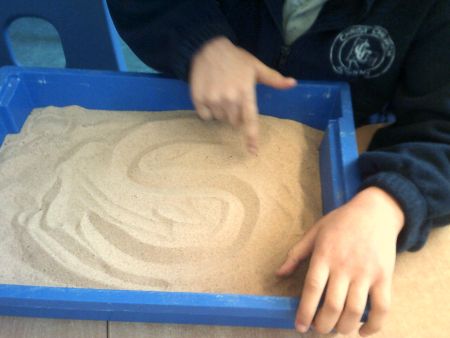 Preparing to make numbers in playdough.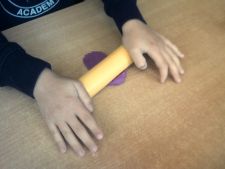 There are a wide range of reasons why a child may find it hard to learn. Some of these reasons may be short term and some of these long term. Many children will just follow a different pattern to their learning and development. Where children have a long term need that requires them to receive additional and different types of learning they will be recorded on the school SEN register.
Developing Fine Motor Skills.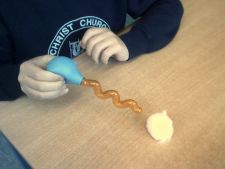 Fine motor skills involve small muscles that control the hand, fingers and thumb. They help children perform important tasks such as feeding themselves, grasping objects and writing.
Christ Church CEP Academy, Brockman Road,
Folkestone, Kent, CT20 1DJ Telephone: 01303 253645