Online Safety
Our children are growing up in an increasingly online world and the risks that they will come across and have to deal with are very different to the risks that we would have learnt to deal with. Parents can, rightly, be very concerned about online behaviour and conduct and so we have provided some factsheets below about the most common risks that children will face. These factsheets and other resources can also be found on the Parent Resource Hub of the Safeguarding Training Centre.
Useful Links
Further Information about Online Safety
Safer Internet Day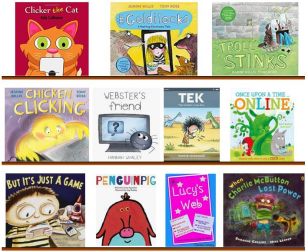 Introduced during Safer Internet Day, we also use the following books to teach children about how to be kind and respectful to others online, protect their online reputations (and those of others) and to seek out positive opportunities to create, engage and share online.
Christ Church CEP Academy, Brockman Road,
Folkestone, Kent, CT20 1DJ Telephone: 01303 253645