The Folkestone Herald ~ Primary School Awarded Top Eco Flags.
29th Nov 2013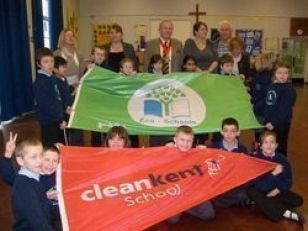 Pupils in Folkestone have been presented with a prestigious award proving they care for the environment.
Christ Church Primary, in Brockman Road, recieved the Green Flag from Kent County Council (KCC) on Monday. The award was presented by KCC chairman John Davies. The prize is the highest acoloade awarded under the international Eco-Schools programme. Eco-Schools is an international inititive designed to encourage pupils to help keep areas tidy and environmentally friendly. Christ Church has introduced a number of eco aware steps in the past two years, including a chicken pen to produce fresh eggs.
The school was also awarded a Red Tidy Flag as part of the Clean Kent School programme, which recognises a commitment to cleaning the environment.
Christ Church CEP Academy, Brockman Road,
Folkestone, Kent, CT20 1DJ Telephone: 01303 253645