School's Joy Over Green Award!
23rd Nov 2013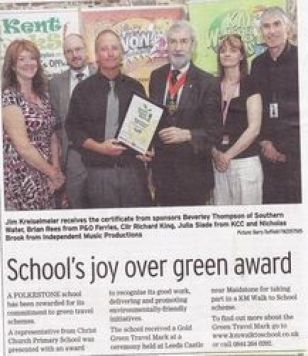 A Folkestone school has been rewarded for it's commitment to green travel schemes. Head teacher Jim Kreiselmeier from Christ Church Primary School was presented with an award to recognise its good work, delivering and promoting environmentally-friendly initiatives.

The school received a Gold Green Travel Mark at a ceremony held at Leeds Castle near Maidstone for taking part in a KM Walk to School scheme.

Jim Kreiselmeier receives the certificate from sponsers Beverley Thompson of Southern Water, Brian Rees from P&O Ferries, Cllr Richard King, Julia Slade from KCC and Nicholas Brook from Independent Music Productions.
Christ Church CEP Academy, Brockman Road,
Folkestone, Kent, CT20 1DJ Telephone: 01303 253645