Computing and On line safety
ICT & Safety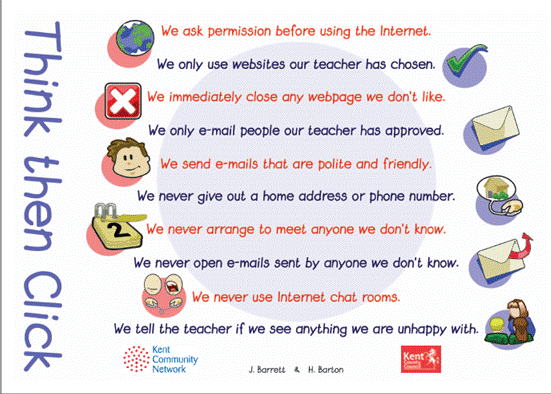 Online Safety is about educating our pupils and building resilience and strategies to keep themselves safe it is not just about restriction.
Today's children are growing up in a digital world where the availability of technology and the internet enable them and us to have a global resource available at our fingertips 24/7. We can access news and information, we can communicate with friends and family from across the world, we can interact with our friends, manage our money and shopping. The digital world is quick, accessible and convenient and most definitely fun!
What are the risks?
Content
Some online material is 'risky'. It may be inappropriate due to a child's age or stage of development and could therefore be harmful to that child. Such content might include violence, nudity or hate or may seek to promote harmful behaviours such as eating disorders.
Some content may be illegal.
Contact
The digital world enables us to stay in contact with friends and families who we may not be able to meet up with very often. It can also be a way to meet new people. Contact can be risky if we don't know who we are talking to.
Commerce
Many websites, apps and services rely on advertising to make money. Occasionally advertising may be inappropriate for the child who sees it. This is especially likely to occur on social media sites if someone has lied about their age.
Our personal information is one of our most valuable belongings so we need to look after it. People online may want to sell our information on without us knowing about it. We can make sure that we use strong passwords to help prevent this.
Conduct
Technology by itself is not dangerous it is the behaviour of individuals that poses a threat. This can include cyberbullying (see our Positive Behaviour Policy), addiction, 'sexting' and low self-esteem.
What can we do?
Talk to your child. Children can worry that if they share something they have seen or done online then their devices will be taken away. It is important to have an open dialogue where children know that the can talk about anything that scares or upsets them.
Parental controls. No filter is 100% effective but having parental controls can help keep your child from seeing content that may be inappropriate.
Educate yourself. Our children often seem to have a better understanding of technology than we do so it important that we actively try to learn and find out about devices, apps and websites which they are using.
Promote good conduct. A child who is polite, responsible and confident in the 'real' world is much more likely to be the same in the 'digital' world.
If you are concerned about something online you can contact CEOP by clicking the link on the bottom of the page. Alternatively you are welcome to talk to staff at the school. Mrs Cook and Mr Goldsmith are responsible for online safety.
More information can be found at the following websites:
http://www.o2.co.uk/help/nspcc?cm_mmc=msnuk-_-PPC_Brand_Other_Partnerships-_-NSPCC-Generics-Search-Broad-_-InternetSafetyGeneric%20%20safetyonthe%20internet%20Broad
Christ Church CEP Academy, Brockman Road,
Folkestone, Kent, CT20 1DJ Telephone: 01303 253645