Magic Breakfast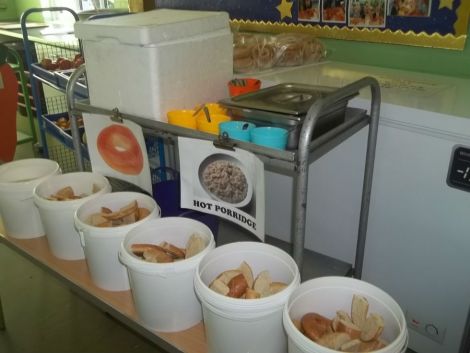 Our children are enjoying the free Magic Breakfast on a daily basis. KS1 children have a 'Bucket of Bagels' delivered to their classroom first thing in the morning. KS2 children have a 'Bagel Bar' on the Junior playground when they arrive at school with the option of a bowl of hot porridge or a half a bagel before they start school.
There will be a change in Term 6 when a bowl of Cheerio snacks will be added to the choices!
All the food offered for this breakfast is low in fat and sugar, this provision is subsidised by the Government using the money collected via the Sugar Tax. All provision for breakfast complies with the food standards and inspections are carried out regularly by the National School Breakfast Programme representative.
Breakfast club
Opening Times

Every school day from 08.00am ~ 08.30am
Children must be in Breakfast Club by 08.15am in order to have enough time to eat their breakfast before school begins.
Breakfast Club Menu

Hot meal £1
Cold meal 80p
Monday ~ Beans on toast
Tuesday ~ Bacon sandwich
Wednesday ~ Eggs
Thursday ~ Spaghetti on toast
Friday ~ Cheese and ham toasted sandwich

Plus a drink of juice, water or milk
and 1 of the following:
Cereal
Yoghurt
Fruit
Available each day
A choice of 2 of the following:
2 slices of toast
Toast toppings - butter or marmite
Cereals: cornflakes, weetabix, shreddies, hoops, rice crispies
Low fat yoghurts


Plus a drink of juice, water or milk
News
11th Mar 2015
Once again our BIG BREAKFAST proved very popular, with about 100 breakfasts being...

14th Nov 2014
Children in Need's Pudsey Bear came to Christ Church's breakfast club! On the beakfast...

Christ Church CEP Academy, Brockman Road,
Folkestone, Kent, CT20 1DJ Telephone: 01303 253645